Arizona Divorce Attorney
Let Us Guide You Through the Arizona Divorce Process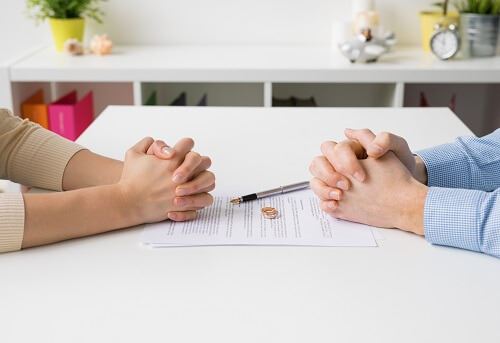 Making the decision to divorce your spouse can be difficult; however it is often the best choice for a family. Divorce may seem like an overwhelming process that will drag on far too long, but the good news is that it doesn't have to be—especially when you retain a skilled Mesa divorce attorney to guide you through it.
When you come to work with the team at Bastian Law Offices, PLC, we start by listening to your case and working with you to understand your personal situation. Once we have determined what type of divorce may be best, we can break down your options and help you move forward from there. Our main priority is to ensure that you dissolve your marriage in a positive manner, giving the boost you need to confidently embrace your new life.
How Do I File for Divorce in Arizona?
Meet the Arizona residency requirements for divorce. At least one spouse must have been "domiciled" in—or a resident of—Arizona for 90 days before filing a divorce petition.
Get your divorce papers. Go to the Superior Court in the county where you live and obtain your divorce packets from the library resource center or the Clerk of Court. You can also apply and obtain Arizona divorce papers online.
Fill out your divorce papers. To avoid mistakes, it's best to complete your divorce paperwork with the help of a divorce lawyer.
Make two copies of all divorce paperwork. The original copies will be filed with the Court, you will keep a copy for yourself, and a copy will be served to your spouse.
File your divorce papers. Return to the Superior Court in the county where you live and file your divorce paperwork with the Clerk of Court. They will keep the original papers and stamp them as "filed."
Pay the divorce filing fee. If you cannot afford to file for divorce, then you may apply to have the fee waived.
Serve the divorce papers to your spouse. The Clerk of Court can help you arrange to have a copy of your divorce papers served to your spouse, either by a sheriff or by a registered process server. Your spouse, the "Respondent," must be served these papers within 120 days of them being filed. They must then file a response within 20 days or being served the divorce papers.
Is Az a 50/50 Divorce State?
Yes, Arizona is a 50/50 divorce state.
A divorce state means that, without any particular circumstances, the court will divide all marital property equally between the spouses. Therefore, marital property includes all assets and debts acquired during the marriage, regardless of which spouse's name they are in.
There are a few exceptions to the 50/50 rule. For example, the court may award a spouse more than 50% of the marital property if they can show that they contributed more to acquiring the property. On the other hand, the court may also award a spouse less than 50% of the marital property if they can show that they cannot support themselves financially.
If you are going through a divorce in Mesa, Arizona, it is crucial to speak with our Mesa divorce attorney to understand your rights and options.
Our divorce attorney can help you negotiate a fair settlement with your spouse or represent you in court if necessary.
Helping You Determine the Best Path to Divorce
While many people think of divorce as a straight path, it is actually much more complicated than that. There are many different twists and turns involved, with countless issues and speed bumps that must be resolved along the way. From prenuptial agreements to child custody to property division, these matters can quickly turn a seemingly simple divorce into a complex legal web.
At Bastian Law Offices, PLC, we are here to help you maneuver through the entire process. We are prepared to address every obstacle that comes your way, from residency requirements to debt division. With so many different factors to consider during this time, it is crucial that you hire a legal advocate you can trust to take the heavy legal burden off your shoulders.It is important to realize that there is no "one path" to divorce. We tailor our solution to you.
We help clients navigate all types of divorces, such as:
Get the Insightful Counsel You Deserve: Call Us Now
Ready to discuss your marital situation? We will begin with a phone consultation, answering your divorce and family law questions and providing helpful advice for the process as a whole. If you decide to move forward with retaining our representation, you can feel confident knowing that we have nearly 15 years of experience.
Our Mesa counsel is just a phone call away, so do not hesitate to reach out to us today. We understand that the process of divorce can be a stressful time for a family, especially if children are involved. We are compassionate legal counsel dedicated to fighting for you and your family's best interest.
Now is just as a good a time as any to pursue a better future. Let our team help you move past this stressful and overwhelming experience in a peaceful manner! Whether you face litigation or collaboration ahead, you can count on us to stand beside you. Call us today for the trusted legal guidance you deserve during this time!